Happy Sunday Everyone!
It's been almost a year since we've written our last Reddress Sunday, the LabOnTheCheap errata. Originally we anticipated that we would have to publish corrections to previous posts on at least a monthly basis, but there haven't been many emails telling us of scientific errors.
Minor fixes include some small adjustments to prices on the very long Dealing with Data post, and fixing links to the papers on the first post about making cheap shutters using hard drives.
Minor changes to the website, are the Write In! and Reddit buttons on the top right. We desperately want a wider group of scientists to help write and curate these posts and we thought a big Write In! button would communicate that. Some day we hope to also get a Reddit community up and going in lieu of a comments section or forums.
Bigger changes are coming. As this website has grown to have over 100 posts, the blog format is becoming unwieldy. We're working on changing the front page so that only the most recent post or two are visible, and then quickly get the website visitors to look at particular categories, or do a search for the type of equipment they might be interested in.
Something that would look roughly like this: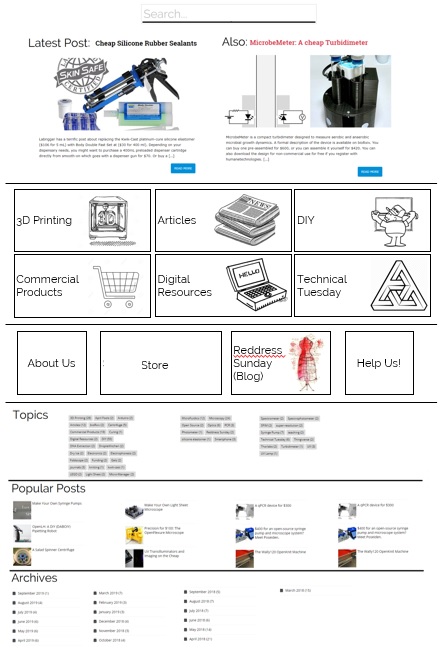 The website has looked fairly bare-bones for a long time now, because we are more interested in loading speed then presentation, but we are thinking about making it a little more flashy as well.
Let us know if you have any feedback or ideas. Features you wish we had or UI changes you wish we would implement. Also check out this incredible artwork Veritas Gassmann made for our Reddress Sunday posts!